Twitter's riding a political wave in Latin America
Politics has helped drive usage of the microblogging platform in the region
Article by Matteo Ceurvels for eMarketer
Investors have banged Twitter pretty hard of late. Criticized for flat user growth, the company's stock has dropped as much as 13% during recent midday trading.
Despite this, users in Latin America have made the platform an integral part of their social media consumption habits.
eMarketer estimates that there will be 73.1 million Twitter users in the region this year, equating to a penetration rate of 11.7% among the overall population. We project those figures will grow to 80.7 million users and a 12.4% penetration rate by the end of 2021.
Brazil makes up the largest share of monthly active users (MAUs) in the region, with 29.2 million users by eMarketer's estimates. But 36.3% of social network users in Mexico will use the platform this year, making it the country with the highest rate of Twitter usage in Latin America.
Twitter has emerged as an essential tool for politicians across the region. Many governments and diplomatic missions in Latin America encourage staff to tweet frequently to amplify their messages and reach constituents.
"Social media … has gone from being an afterthought to being the very first thought of world leaders and governments across the globe, as audiences flock to their Twitter newsfeeds for the latest news and statements. …Twitter, in particular, has become a diplomatic barometer, a tool used to analyze and forecast international relations," global public relations firm Burson-Marsteller wrote in its "Twiplomacy Study 2017" report, released in May.
Data from the study showed that government leaders in Latin America are very active on Twitter. Mexican President Enrique Peña Nieto lead the pack, with 6.38 million followers as of May 22. He was followed by Colombian President Juan Manuel Santos, Argentinian President Mauricio Macri and Venezuelan President Nicolás Maduro, each with more than 3 million followers.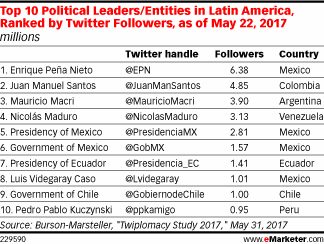 Burson-Marsteller's report noted that the Mexican government (@GobMx) ranks as the most active Twitter account in Latin America, sending out 123 tweets per day on average. The government's social media team also takes pains to retweet its content throughout the week to keep its messages in front of followers.
Venezuela's Foreign Ministry (@vencancilleria) is the second most active account in the region, with an average of 95 tweets per day. President Maduro is nearly as active on his account, tweeting roughly 82 times a day.
Data from StatCounter shows how potent a force Twitter is in Venezuela. The firm found that Twitter was responsible for nearly three-quarters of page views resulting from a social network referral in July.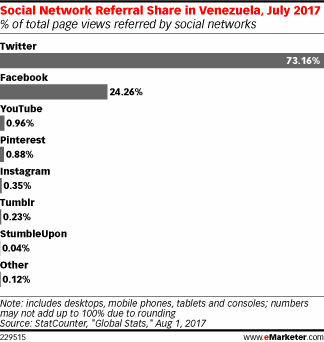 Twitter has also been aided by the fact that Venezuela's government has continually restricted access to independent media in an attempt to maintain control of its political narrative. As a result, internet users in Venezuela have turned to the platform as a way to remain informed of political developments and other news.
Twitter is expected to play a crucial role during the six upcoming presidential elections to be held in the region next year—in Brazil, Colombia, Costa Rica, Mexico, Paraguay and Venezuela.
Given its great reach and influence, Twitter has proven more than a vehicle for entertainment, but also a political tool that can either build or destroy the popularity of a candidate on election day.
To view original article on eMarketer click here: https://www.emarketer.com/Article/Twitters-Riding-Political-Wave-Latin-America/1016334
https://iccopr.com/wp-content/uploads/2017/08/twitter-latin-america.jpg
367
652
iccoadmin
https://iccopr.com/wp-content/uploads/2017/03/2834-ICCO-Logo-Horizontal-CMYK-1030x458.png
iccoadmin
2017-08-15 14:21:51
2017-08-15 14:21:51
Twitter's riding a political wave in Latin America